Sontje Hansen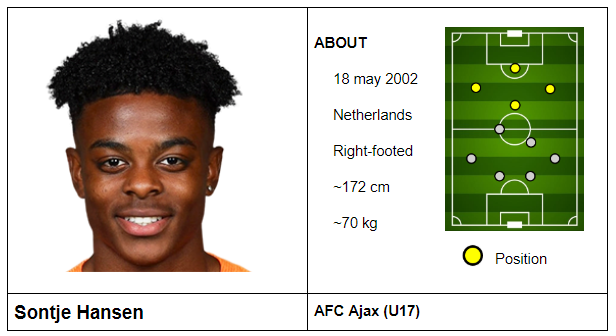 Sontje Hansen is Dutch forward who joined the Ajax academy after he had a trial at De Toekomst in 2016. Two years later, he signed his first contract with the club. In that same year, at the age of 16, he was promoted to Ajax's U19 side, coached by John Heitinga.
Hansen is a fast and creative attacker who also has a nose for goals. He's very versatile player as he can play in a central position and on both wings. His pace and dribbling makes him a threat for defenders.
.Stats Ajax U17-U19 (www.transfermarkt.com)
Sontje Hansen is a winner. He doesn't like losing and wants to prove himself to people. Next to his trial at Ajax, he had one at AZ too. His mum thought Ajax would be too challenging but Hansen had his mind set. Two years laters he put pen to paper and signed a contract.
On the pitch he always gives 100%. Even during the last minutes he tries to sprint. His great physique allows him to do this. His body movement makes him able to slide past opponents. With or without the ball, he's always looking for spaces to run into. He's not afraid of taking a more challenging option to create attacks. Sometimes this leads to losing the ball or giving the ball in the right direction, but not quite hard enough.
He is more than capable of putting the ball past the goalkeeper. Making him a complete forward. Although he's no fan of dropping back to defend.
Hansen has been a regular at the Dutch international youth teams since the U15's. The young Dutchman has represented his country at both the European cup U17 2019, where he ranked third in the topscorer list with 3 goals, and the World cup U17 2019, where he is currently leading the topscorer list with 6 goals so far.
By Nathan De Ridder
Twitter: @NDRDScout
Email: